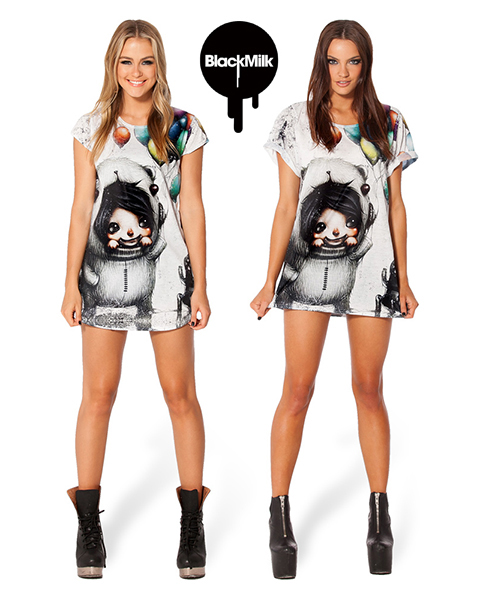 The Black Milk which is a popular brand in Australia, is launching collaborative goods for 4th anniversary.
Men's & Women's T-shirts printed with "fuusen" are put on sale as PRE SALE tihs time.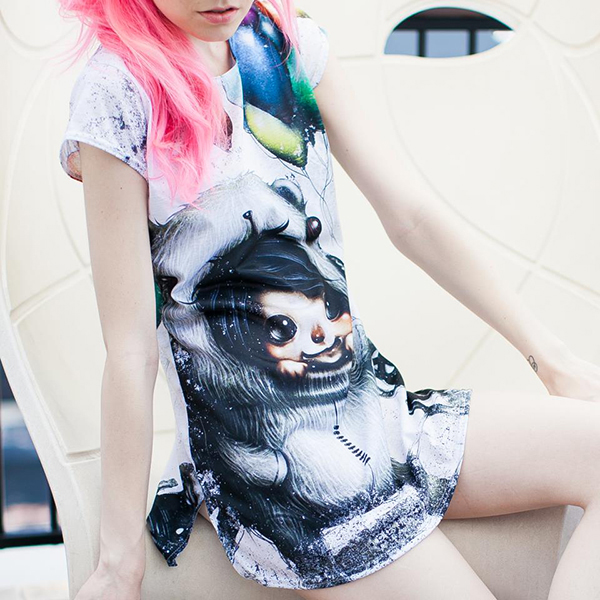 Naoki's Big Day Out
Finally the day had arrived, the day that he had been waiting for – Naoki's fourth birthday! He slowly opened his eyes, yawned his biggest yawn, and looked around his bedroom. There were balloons everywhere! They bumped against each other, jostling for space against the painted clouds on Naoki's bedroom ceiling. Naoki jumped out of bed – he couldn't believe it! Where had all the beautiful balloons come from?
He raced downstairs to ask his mum if she knew about the balloons. But she didn't know. Naoki's mum gave him his birthday present, and that distracted him from the balloons for a moment.
Tearing off the wrapping paper, Naoki squealed with delight – it was a super fluffy bear suit! The newest design, too. He climbed into it, jumping up and down impatiently while his mum helped him button it up. Just as the final button was closed, a handful of balloons floated down the stairs.
He HAD to find out why all those balloons were suddenly in his room! Maybe they were left there by aliens? Or spirits? Or fairies?
After a delicious breakfast of pancakes and peaches, he waddled out the door, the ears on his bear suit flopping back and forth, and a trail of balloons bobbing along behind him. He smiled a great big grin, with his wonderful new bear suit, and his brightly coloured balloons, everyone in the street would stop and admire him, he was quite sure of that. Naoki's big day out had just begun…
This piece commemorates our 4th birthday:) Hip hip hooray!
Artist: Shichigoro for Black Milk Clothing
Made in: Australia"

via: BlackMilk's Website
Naoki's Big Day Out – Boy Friend T-shirt
Naoki's Big Day Out BFT (BlackMilk) 

Naoki's Big Day Out – Girl Friend T-shirt
Naoki's Big Day Out GFT (BlackMilk) 

Please check it by all means, if you are interested. :D
The Key Visual Image of BlackMilk's Website like this now.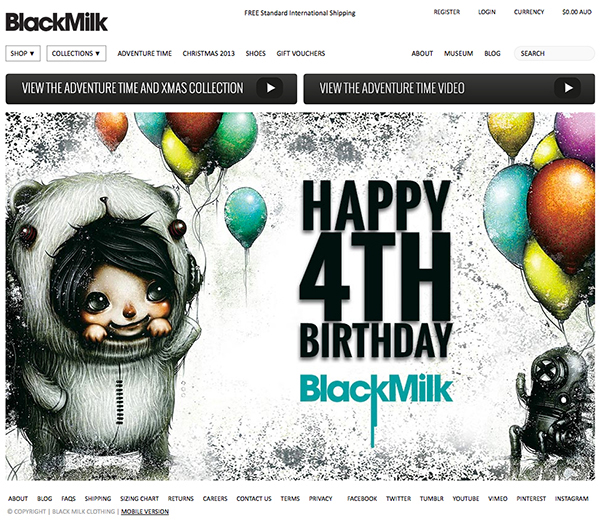 There is a cake, too!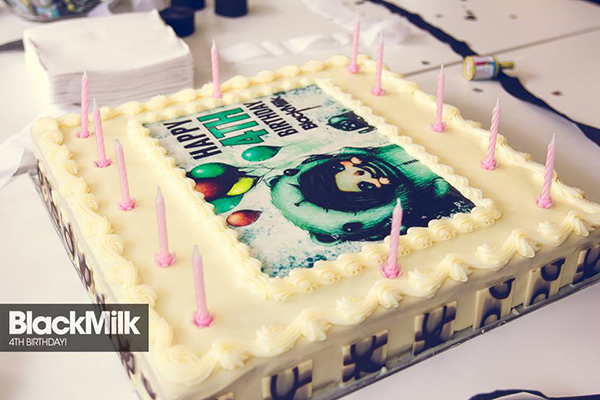 Super-spesh Black Milk Birthday Release!
Website and Facebook of Black Milk.
blackmilkclothing.com


Black Milk Clothing (facebook)