We went to Hong Kong a few days ago, because shichigoro-shingo received an award for "dedegumo" in the "watch more Japan project – Watch Contest", and were invited to "Hong Kong Watch & Clock Fair" by CEO of dedegumo.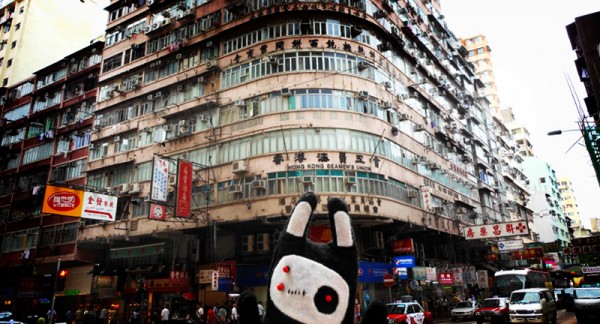 The first day.
We got on a plane then arrived in the Hong Kong International Airport in about 4 hours.
We were greeted by CEO of dedegumo at the airport and left for Wan Chai that there are a hotel and the Hong Kong Convention & Exhibition Centre by the taxi.
Wan Chai is the city which faces the Victoria Harbour that connects Hong Kong Island to Kowloon, and the waterfront is lined with high-rise buildings.
Also the hotel that was arranged by dedegumo, was modern and a smart interior decoration, and was a very comfortable.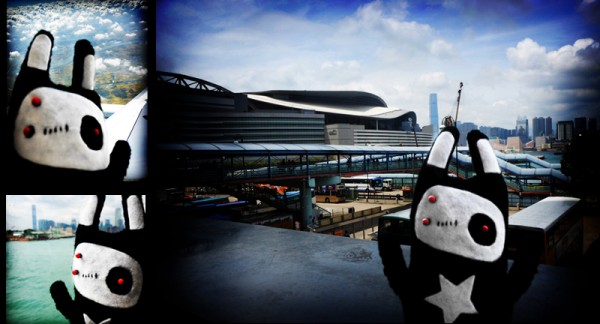 The large building in the center of the image is the Hong Kong Convention & Exhibition Centre which is being held the Hong Kong Watch & Clock Fair.
There was the booth of dedegumo which has a high class atmosphere in the booths of various watch brands in the world.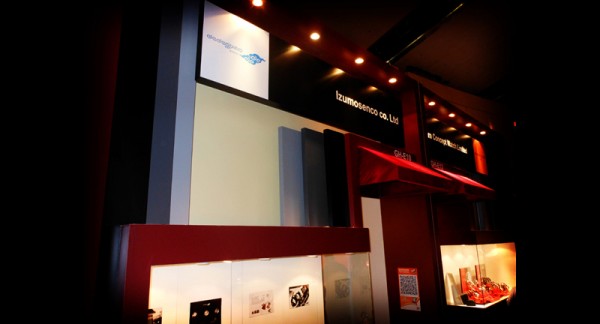 The watches of dedegumo still stood out conspicuously into a hall which was lined with many various booths.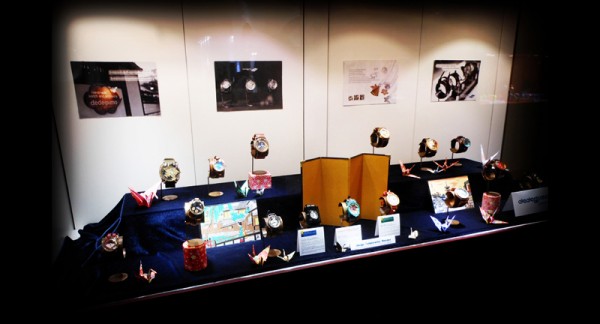 The window display of dedegumo's booth.
It was the Japanese style design that was decorated with origami cranes and a Japanese golden folding screen, and the creators collaboration watches were exhibited on the center in new watches of dedegumo.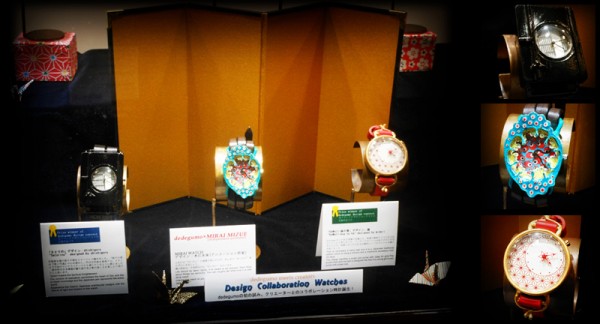 The left : shichigoro-shingo "satorino", The center : "dedegumo x Mirai Mizue" Design Watch, The right : Midori "KAWAII – Hemp Leaf" (Japanese hemp leaf pattern)
The collaboration watch of Mirai Mizue is using technology of cloisonne for a surface of a watch that is a pop and a high chroma coloring, and it was finished a lightly pop feeling and a very deep at the same time.
Also "KAWAII – Hemp Leaf" of Midori is a high reproduction, and the intricate details of this design was also made solidly. KAWAII and a smaller watch hands were very nice.
Buyers from overseas looked in the showcase with interest.
After the exhibition of this day is finished, we had dinner with CEO of dedegumo and his wife.
CEO keeps the challenge and is very powerful. He talked passionately about future plans and prospects for dedegumo. We had a very good and mentally exciting dinner time with nice talking.
Also, I think that would like to hear various story, if have a chance.
I'm looking forward to prospects for dedegumo including the finished product watch of "satrino".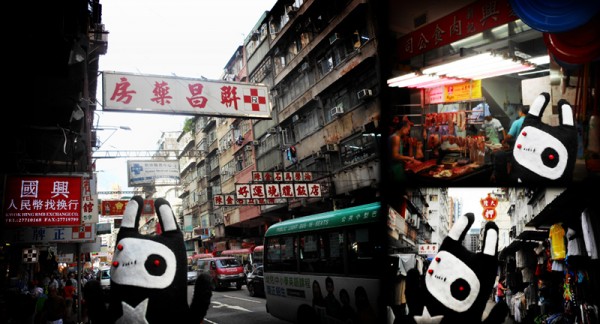 The second day.
We went sightseeing in Hong Kong, after we met an old friend and several times make a toast with the Tsingtao Beer.
I couldn't very think of which place I want to see a sight, because, my image about Hong Kong was strongly influenced by "Kowloon Walled City" that is a photo book of Ryuji Miyamoto of Japanese photographer but this place was developed into the park in 1993.
But depthful Hong Kong, there were interesting places and cool buildings that retains the atmosphere of those years in everywhere. :D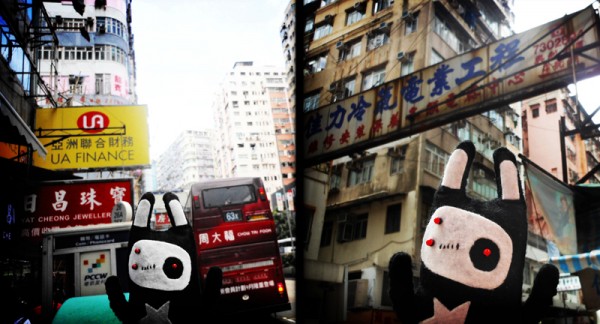 There were many cool signboards and buildings when walking around town. I felt the influence of British culture to such thing as red double-decker buses running through the city.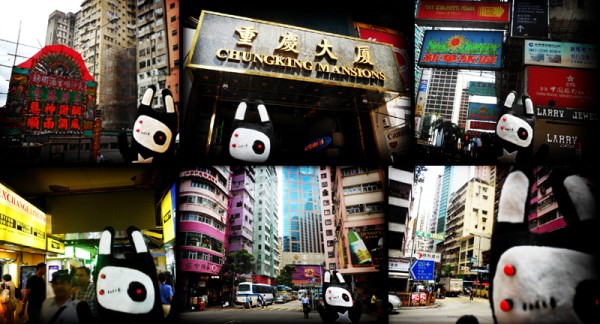 There were many Indian inside Chungking Mansions lined with such a curry shops and exchange shops.
We left for Causeway Bay where my friend live in, after we strolled the town. He said, Causeway Bay is the city like Shibuya (or Harajuku) in Japan. Indeed, the city lined with modern buildings and was flooded with young people.
I can't help feeling the power of trend of the times in current Hong Kong from that a contrast between a city where old buildings is left and a city that is among modern high rise buildings which were constructed by redevelopment.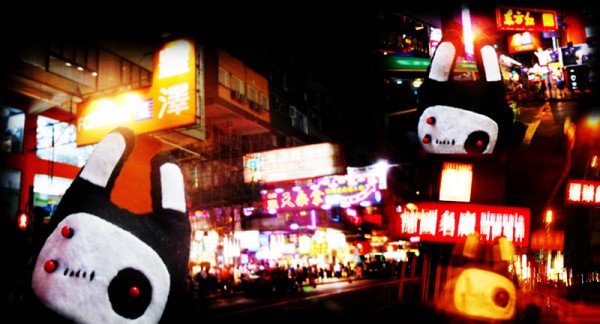 Neon signs of the city were lighting very cool at night. :D …Sorry, Somehow this image had become to seem like drunkard…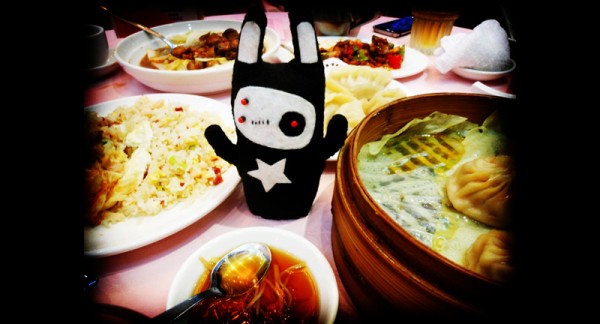 Meals and Beers is very good too, and It was a short amount of time, but we were able to spend inspired, enjoyable and quality time, and was much better than anticipated.
CEO of dedegumo kindly saw us off at the bus stop when we also go back to Japan.
We received every imaginable service from him about anything and everything.
We really appreciate that dedegumo invited us!!
And, Thanks for my friend who enjoyed to go around with us all the day! :D
P.S.
The images of trial model watches and reports of the Hong Kong Fair are published on website of loftwork. (Japanese Text)
Creator's design watches and reports of Hong Kong Fair – Watch more Japan (loftwork)