shichigoro-shingo is participating in the CG Art Gallery of ASIAGRAPH in Tokyo 2012 as the invited artist.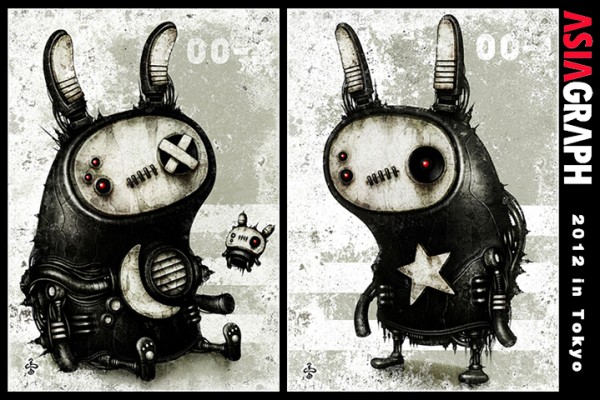 The left "usarobo-002″ / The right "usarobo-001″
The above two pieaces will be exhibited.
CG animations and CG artworks of prizewinners that were selected from among applications of 600 pieces gathered from 14 countries and territories, and CG artworks of invited artists from home and abroad will be exhibited in the CG art gallery and the CG animation Theater in ASIAGRAPH.
New artwork "Atoma" of Almacan (Kazuhiko Nakamura) who is one of the people I respect the most in CG artist, and artworks of wonderful artists who are active in Asian countries, are exhibited.
Please drop in if you are in the area.
P.S.
A look of exhibition "usarobo" was like this.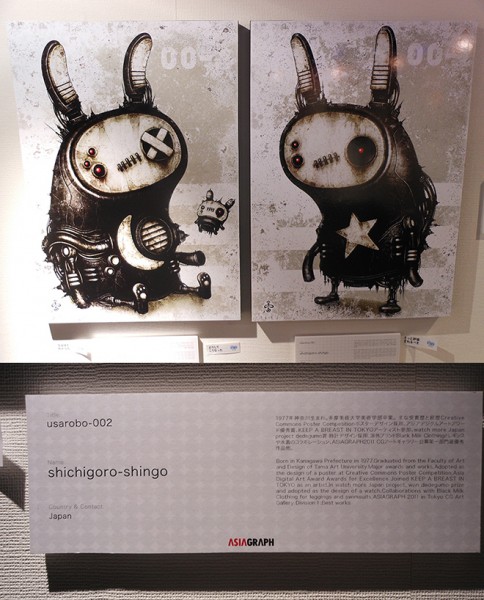 It is the third time this year that my work have be exhibited in ASIAGRAPH.
I was able to see wonderful artworks of digital artists from home and abroad at ASIAGRAPH, also was able to experience new digital contents at DIGITAL CONTENT EXPO when I went to this exhibition. They are very enjoyable and instructive for me every year.
Thank you very much for coming to see my work and to interested parties.