shichigoro-shingo is participating in the TOKYO LOVE SHOW which will be held from May 25 to May 31 at Omotesandohills, Tokyo, JAPAN.
The TOKYO LOVE SHOW is the official launch of Keep A Breast Japan, the newest international branch of nonprofit organization The Keep A Breast Foundation.
About 100 "BREAST CAST ART" are exhibited.
And these are sold on official website. (P.S. It seems no longer sold now.)
BREAST CAST ART is the plaster bust was modeled in plaster from the female bust then was customized by artists.
In the event of past, many celebrities including Katy Perry, Pink, Tom Deloge, Iggy Pop, Kim Gordon of Sonic Youth have participated.
More info about BREAST CAST ART:
BREAST CAST ART (The Keep A Breast Foundation)

This time, are customized under the theme of "LOVE" by artist from across Asia, Europe and North America curated by Yasha Young

, and also famous athletes and fashion models have given the own plaster bust.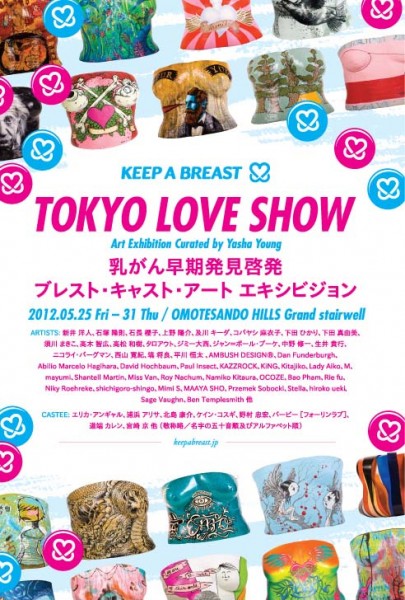 Please drop in here when you come this way.
KEEP A BREAST - TOKYO LOVE SHOW
Exhibition Date

Friday, May 25 – Thursday, May 31, 2012

Opening Hours

11:00am – 9:00pm (Sunday close at 8:00pm)

Venue

Omotesandohills Main Building Grand stairwell

Address

4-12-10 Jingumae, Shibuya-ku, Tokyo, JAPAN

Admission Fee

Free

Links

Keep A Breast TOKYO LOVE SHOW
Keep A Breast Japan
The Keep A Breast Foundation