I will participate to a collaborative exhibition with JUNK LAW "-70°C" from Saturday, September 19 to Sunday, October 4 at Hoshizukiyo which is an organic restaurant and a gallery in Inuyama-shi, Aichi, Japan.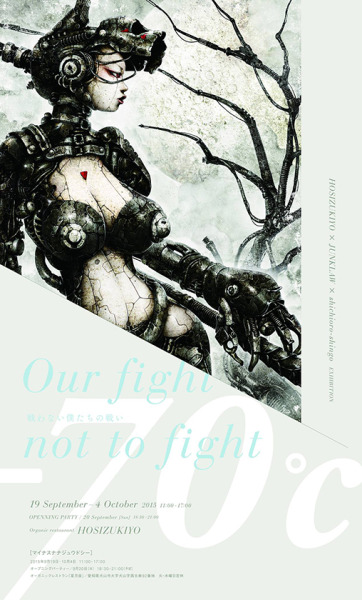 JUNK LAW is a Japanese artist who create sculptures with such as junk iron. He is one of most influential artists in the steampunk world of Japan.
He hold a collaborative exhibition with various artists under the theme of post war, in every fall and I was invited as collaborative artist in this year that has been 70 years since end of war (WW2).
My artworks "idaten" and "kitsune-bi" that I drew with JUNK LAW's sculpture motif, and other my works will be on display with his sculptures.
These are JUNK LAW's works.
"IDATEN"
"KITSUNE-BI Second Chapter"
You can see other his artworks on his website and facebook page.
I'm going to participation in reception party on Sep. 20.
"-70°C" Our fight not to fight
Exhibition Date

Saturday, September 19 – Sunday, October 4, 2015

Closed

Tuesday and Wednesday

Opening Hours

11:00am – 5:00pm

Venue

Hoshizukiyo  (Japanese Text)

Address

92 Nishikoken, Inuyama-shi, Aichi, Japan