shichigoro-shingo participate in the Kendama (Ken Ball) Art Exhibition which will be held at the Shinjuku Takashimaya from Wed. October 15 to Tue. October 28.
This event is a collaboration project between the Japan Kendama Association and the Shinjuku Takashimaya.
The Art Kendama of about 50 pieces that are painted by illustrators on the Kendama which were produced by craftsmen in Yamagata, will be exhibited and sold.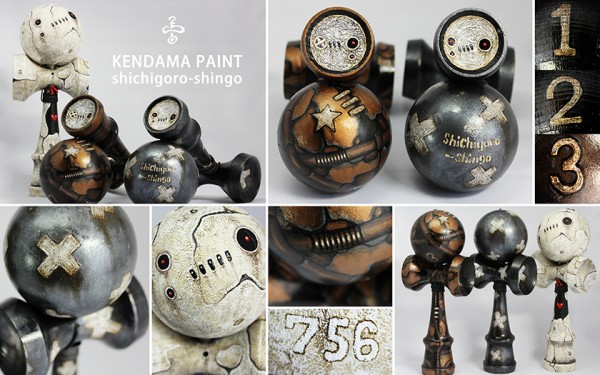 Three piece on this image will be exhibited and sold.
The price is 12,000 yen apiece (tax not included).
Please drop in if you are in the area.
Kendama Art Exhibition - Japan Kendama Association x Shinjuku Takashimaya
Exhibition Date

Wednesday, October 15 – Tuesday, October 28, 2014

Opening Hours

10:00am – 8:00pm

Venue

Shinjuku Takashimaya  The tenth-floor, Special event space (in front of the central escalator)

Address

5-24-2 Sendagaya, Shibuya-ku, Tokyo.
(close by the Shinjuku station)

Admission Fee

Free

Links

Shinjuku Takashimaya – Events  (within "It is event [NIPPON thing is enough]")
Japan Kendama Association

Participated Artists

Yusuke Hanai, BAKIBAKI, Tadaomi Shibuya, shichigoro-shingo, DRAGON76, NOVOL, Michinori Maru, JUN INOUE, IKKO TORCHIDA, KENSUKE TAKAHASHI, SHINPEI ONISHI, Yu Nagaba, JOSON

etc.

The performance using a Kendama will be held at 14:00 to 16:00 on Sunday, Oct. 19 at the welcome zone of the second floor.
P.S.
This is a photo of the exhibition. They are exhibited to put in a showcase.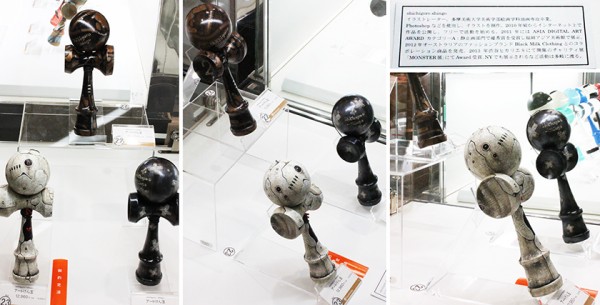 The Kendama of shichigoro-shingo were sold out.
Thank you for your purchase! :D