shichigoro-shingo will participate in the Design Style Exhibition – Moving LINE – which is the group show presented by RECTO VERSO GALLERY.
Exhibition artworks is the trilogy consisting of "red line" "red line-2" and "red line-3", that I drew for this group show.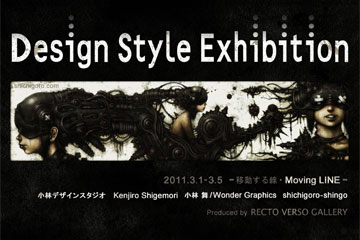 If you want this exhibition postcard, please contact by E-mail attach your name and address.
Participating Artist
– KOBAYASHI DESIGN STUDIO
– Kenjiro Shigemori
– Mai Kobayashi / Wonder Graphics
– shichigoro-shingo
Design Style Exhibition - Moving LINE -
Exhibition Date

Tuseday, March 1 – Saturday, March 5, 2011

Opening Hours

1:00pm – 7:00pm / Saturday close to 4:30pm

Venue

RECTO VERSO GALLERY (Japanese Text)
401 INOUE BLDG. 2, 2-17-13, Kayaba-cho, Nihonbashi, chuo-ku, Tokyo, Japan

Admission Fee

Free

Map

etc.

There is the portfolio of other my works in the reception desk of the third floor, please ask the staff.
Please drop in if you are in the area.